from brides



carly,

"leslie is an incredibly talented hair and makeup artist that enjoys what she does and tries hard to help her bride's have fun and enjoy the experience of being made-up and beautiful. she did a fantastic job of giving me the hairstyle that i wanted, even though it was a little different from the normal requests. she also did great work accommodating my bridesmaids' very different hair types and lengths and finding styles to fit them all. as for the makeup, that i think is her true specialty - it was amazing! also, her run-through with her brides is worth the money because she spends a ton of time with you and helps you get your skin and hair prepped far in advance of the big day."


happy mom,

"leslie certainly is very talented in make-up, skin care and hair design. she also is incredible on the day of the wedding at calming the bride and making sure everything is running smoothly around her. she is a natural when it comes to working with brides and mother's who really like perfection. we were very pleased."


happy couple,

"leslie was so amazing! my makeup and hair was absolutely gorgeous on my wedding day. her preliminary appointment was so much more than i expected. not only did we try out several makeup and hair ideas, she gave me a complete skin care lesson that has changed my life. i used to have problem skin, but within a couple weeks of following leslie's suggestions, my skin was completely clear and smooth! i can actually say i love my skin, and it is all thanks to leslie's depth of knowlege on skincare."


heather,


"i used to be a model and i met my stylist at a photo shoot and loved the job she did. the second time she did my hair it was for a wedding photo shoot for the local paper. i was looking through a magazine and saw something that i liked. she uses a different technique on my hair than what other stylists nornally do. she pulled my hair back seceion by section, which takes more time but gives you a better look in the end.

"we did a trial run with makeup and hair before the wedding. i was pleased with the fact that she wrote everything down. during the trial, we didn't do the entire hairstyle - she did just enough for me to see what it was going to look like.

"the actual day fo the wedding, it took about two hours. before we started, she had me blow dry my hair straight down in the front so that the fringe would fall down on an angle over the forehead instead of being curly. she used just a little bit of hairspray in the front and finishing créme in the back."





from the media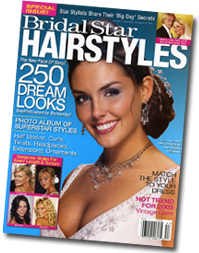 bridal star hairstyles, 2005

in the special celebrity hairstyles edition (#44), leslie has 11 pages of articles and descriptions on bridal hairstyles she's done; including 35 hairstyles by lesliesarts and articles like "put your best face forward."

the magazine also includes hairstyles of hollywood stars and articles on "star weddings 2004," "40 simply gorgeous party tyles for every hair type and occasion" and "hot trend for 2005: vintage glam."

pick one up at any king soopers or other grocery store locations.







bridal star hairstyles, 2004

in the special celebrity hairstyles edition (#40), leslie has 8 pages of descriptions on bridal hairstyles she's done; including tips for hairstyling, styling products, and what length of hair is needed for each of the 15 hairstyles shown.



the magazine also includes hairstyles of hollywood stars and articles on "how to match a headpiece to your style" and "tap the power of extensions."